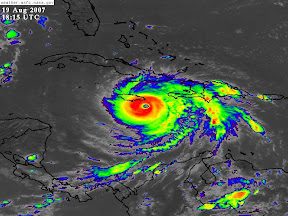 Another year, another hurricane season. Last month, NOAA, predicted a 50% chance of a "normal" 2009 hurricane season. A
normal Atlantic hurricane season
, 01 Jun - 30 Nov, has 6-14 named storms, 4-8 hurricanes and 1-3 major hurricanes (Category 3 with 111mph winds). Earlier this month,
Colorado State University Department of Atmospheric Science
predicted 11 named storms, 5 hurricanes and 2 major hurricanes for 2009. In 2008 CSU had correctly predicted an above average season (we had 16 named storms).
One thing about hurricanes - they are pretty big. So even for well-prepared and well-equipped nations, a whack from just one hurricane can often be just too big to handle alone. So, if it does happen, who can we call?
In the early phase of search and rescue lives hinge on swift rescue and the provision of clean water (most humans can't survive more than three days without water), basic food and basic shelter. However for the response to remain effective when thousands of people are affected, information on the needs of the population also needs to be collected and effectively channeled to available assistance. Information is clearly not as important as water and food, but compounded suffering only days later can be avoided if the humanitarian effort also gathers and uses strategic information. This is where GIS can play an important role, so with that consideration in mind, here's a calling list that countries or humanitarian agencies can use: